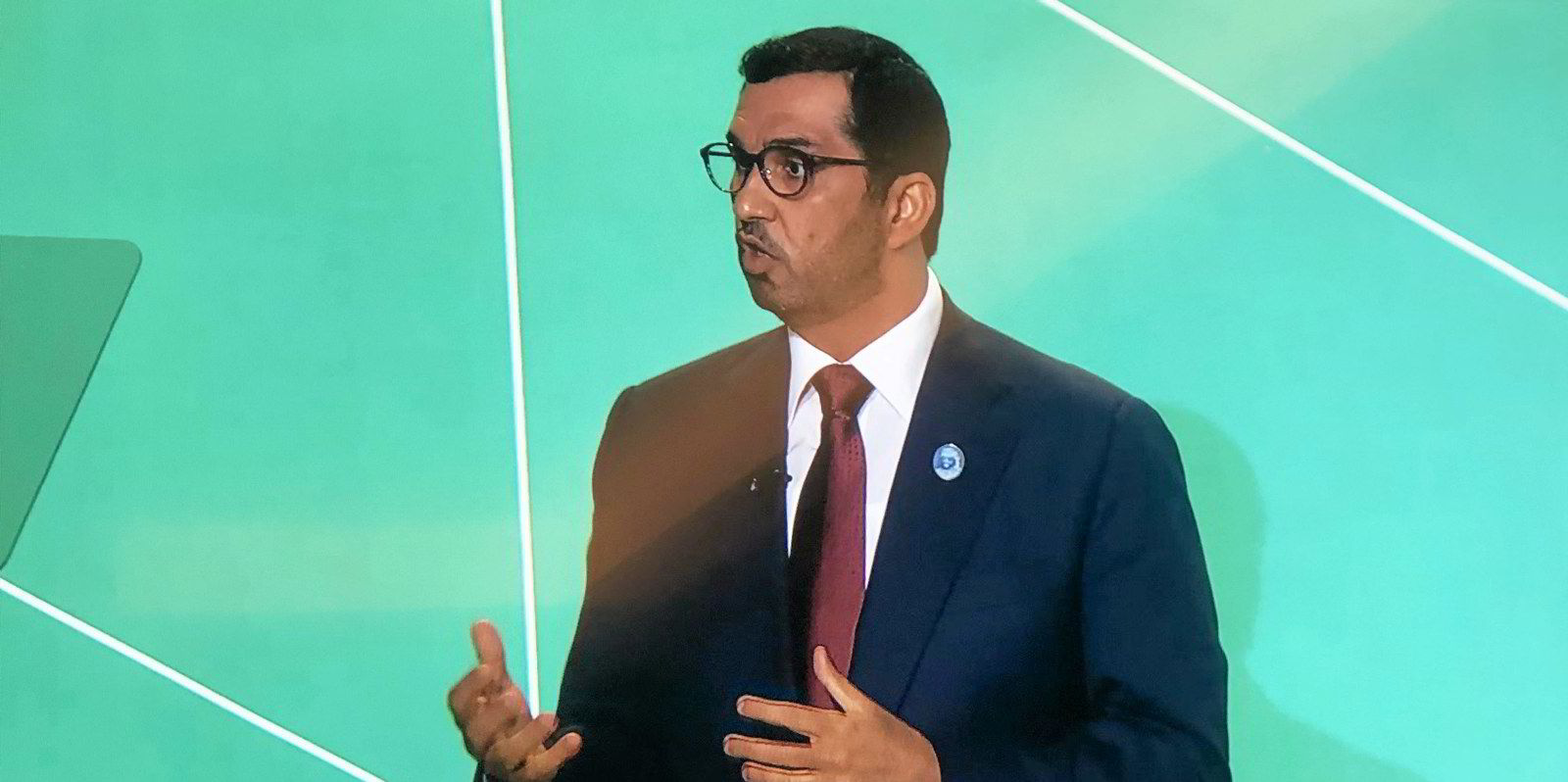 Special Envoy for Climate Change and COP28 President-designate Sultan Ahmed Al Jaber has called on the oil and gas industry to achieve its net-zero emissions targets earlier and not to accept failure as an option.
At the CERAWeek by S&P Global event in Houston on Monday, he urged the industry to scale up the use of best practices and to reach net-zero methane emissions by 2030.
Only half of the industry has declared a scope 1 and 2 net-zero goal by 2050. Everyone in the industry needs to be aligned around the same goal, and the industry should stretch itself to go even further, he said.
"Let's aim to achieve net zero even earlier," he said, urging electrification of operations, equipping of facilities with carbon capture and storage – and using all available technologies to increase efficiency while monitoring, measuring and validating progress.
"We need to agree that failure is not an option," said Al Jaber, who also serves as chief executive of Abu Dhabi National Oil Company.
Power generation is the sector where the biggest impact can be made in the shortest amount of time, Al Jaber said. By 2030, renewable energy capacity needs to triple. This is the decade to diversify portfolios, future-proof companies and provide the clean energy the world needs, he said.
Article continues below the advert
Al Jaber, who is also United Arab Emirates minister of industry & advanced technology, said there will be an extra half a billion people living on this planet by 2030, demanding more energy every year, after the global population passed 8 billion last year.
According to the IPCC, the world needs to cut emissions by 7% each year to keep the Paris Agreement's 1.5 degrees Celsius goal alive for limiting the Earth's warming. This year, the world's progress on the Paris goals will be evaluated through the Global Stocktake process.
"We are way off track. We need a major course correction," Al Jaber said. "This is a global challenge that calls for global solutions from every stakeholder acting in unity and solidarity."
Every government, industry, business and individual has a role to play – and no one can be on the sidelines, Al Jaber said.
The oil and gas industry, in particular, is integral to developing the solutions and needs to show leadership and responsibility, he said.
The industry needs to rapidly decarbonise its own operations, and it has a vital role to play in decarbonising its customers operations, Al Jaber said.
Transforming the world's energy systems represents the greatest opportunity for human and economic development since the first industrial revolution, he said.
He called on the energy industry to create the energy system of the future, today.