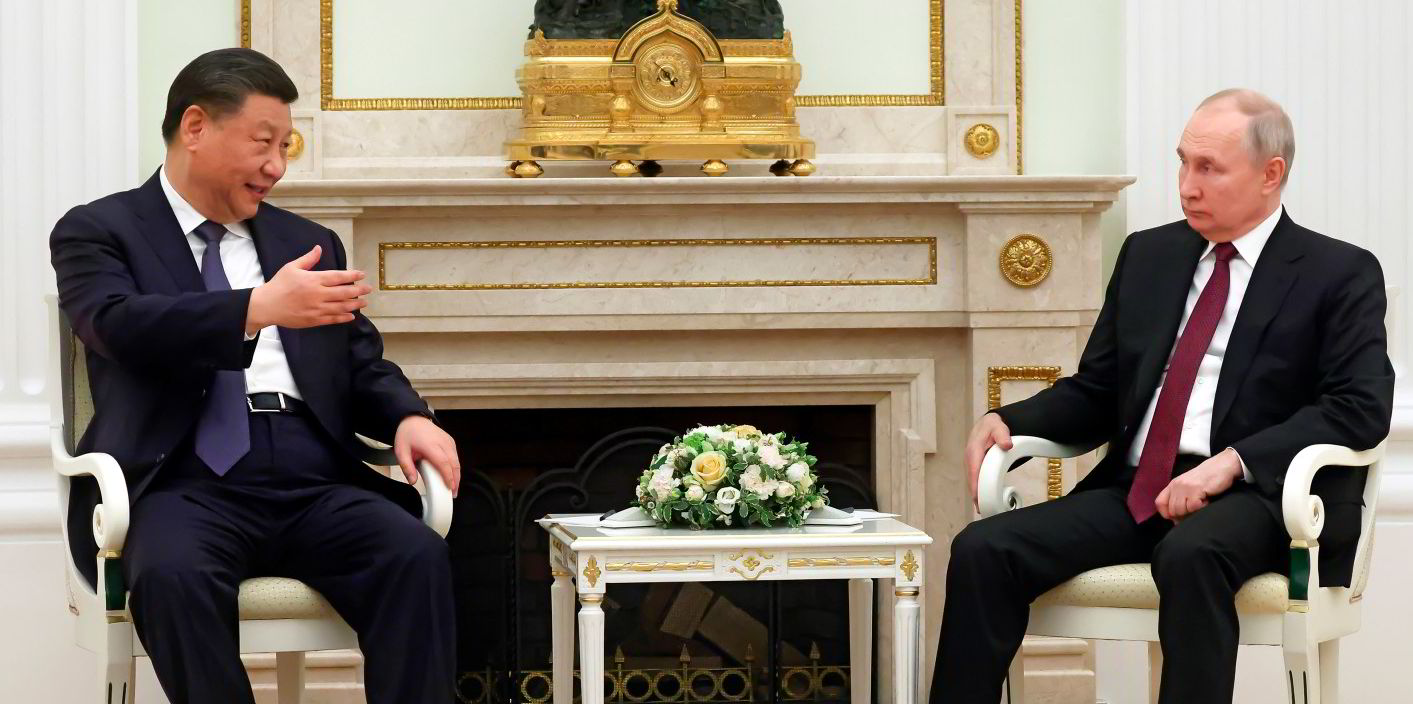 Russia is taking steps to keep heavily discounted oil and gas exports flowing to China, including facilitating new energy infrastructure projects. as it looks to shore up political support from Beijing.
Increasingly isolated because of its ongoing war in Ukraine, Russia is looking to its neighbour to the south as a market for oil and gas that would once have gone to Europe and other regions but is now subject to boycotts and price caps.
Some observers are warning, however, that concessions to China in the form of discounted exports threatens to further sap an already stretched Russian national budget.
Such concerns were set aside Monday when Chinese President Xi Jinping and his Russian counterpart Vladimir Putin met at the Kremlin, where the two leaders greeted each other as "dear friend".
Russia Deputy Prime Minister Alexander Novak announced streamlined permitting measures for new oil and gas pipelines and electricity networks soon after the meeting.
Novak said reduced red tape could "speed up the implementation of projects, including those aimed to divert the supplies of oil, gas and power to the east", according to a press statement from the government.
Article continues below the advert
Russia's Gazprom is planning its largest-ever gas export pipeline to China to carry up to 50 billion cubic metres per annum of gas from West Siberia via Mongolia, and has pledged another 10 Bcm per annum of gas to China from Sakhalin Island.
Russian Prime Minister Mikhail Mishustin expanded Moscow's wish list of joint energy cooperation on Tuesday, saying Russia is seeking Chinese partners in oil, natural gas, oil products, coal, power and nuclear generation, according to Moscow-based news agency Interfax.
In articles published by Russia's state media on the eve of his visit to Moscow, Xi called for cooperation with Russia to confront "damaging acts of hegemony, domination and bullying", while Putin thanked him for a proposal to mediate over Ukraine, which the Kremlin insisted had been preparing to launch an offensive against Russia in partnership with Nato.
Price is secondary
Observers have warned that Russian efforts to woo China with energy discounts could backfire on a government already struggling to identify additional sources of revenues to plug the country's huge budget deficit.
A group of G7 countries has banned imports of Russian seaborne cargoes to Europe and introduced price caps on Russian oil and oil products shipments to countries that do not participate in the embargo.
Russia's leading economist, Vladimir Milov, haswarned that Gazprom and other oil industry players will have to apply for tax exemptions and other benefits for their Chinese export projects to break even.
Using official government statements and data from Russia's customs administration office, Milov calculated that Gazprom sold pipeline gas to China at an estimated $257 per thousand cubic metres in 2022.
Before the war on Ukraine, Gazprom could have delivered gas to Europe — then the company's core export market — at prices five or more times higher, he said.
Gazprom cut supplies to Europe to about one third of pre-war levels in the second half of 2022 as the Kremlin sought to hamper European support for Ukraine.
In 2014, Gazprom and China National Petroleum Corporation signed their first long-term agreement for the supply of up to 38 Bcm per annum of gas via Sila Sibiri.
Milov also points out that the state had to extend tax concessions to Gazprom to underpin its investment in the Sila Sibiri export pipeline to China and the development of the Chayanda field as the primary source of gas for the pipeline.
Russian gas deliveries via Sila Sibiri rose to 15.5 Bcm last year, according to Novak, with Gazprom starting trial gas shipments into Sila Sibiri from its second field in East Siberia, Kovykta, earlier this year to keep up with the 2014 contract delivery terms.
Russian oil and gas flows
Interfax, citing data from China's General Administration of Customs, said LNG shipments from the Sakhalin 2 project and gas deliveries via Sila Sibiri helped Russia become China's top gas supplier in January.
China imported some 2.7 Bcm of gas from Russia in the first month of the year, overtaking gas deliveries from Turkmenistan, Qatar and Australia.
On Tuesday, Gazprom said in a statement that gas deliveries via Sila Sibiri to China hit a record high earlier this week, but did not disclose the amount.
Customs data showed that Chinese imports of Russian oil grew by 24% to nearly 2 million barrels per day in January and February this year against the corresponding period last year, slightly overtaking supplies from Saudi Arabia, according to Reuters.
Most of the increase has been made up of cargoes of Urals heavy and sour oil blend that were diverted from their usual destinations in Europe to ports in China.
Russian supplies to China are dominated by its light, sweet oil grade known as ESPO Blend that is produced in fields in West and East Siberia and reaches China via the East Siberia–Pacific Ocean pipeline.
Additionally, Russia and Kazakhstan have renewed their oil pipeline transit agreement that permits Russian producers to deliver oil from West Siberia across Kazakhstan to China at the rate of over 200,000 bpd.