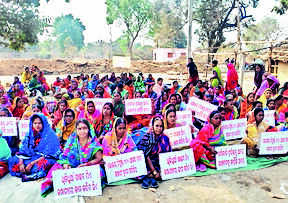 ANGUL: Nalco Coal Mine Utkal-D has been paralysed for the last three days due to an agitation by the affected tenants of Raijharan panchayat in Angul block.
The displaced people are demanding full land compensation, job and peripheral developmental work among others. The affected villagers of Raijharan alleged that though they have lost their agricultural land among other things, they are yet to get compensation or job in lieu of land.
The villagers have vowed not to call off the strike until their demands are met. So far, no company or official has visited the strike spot. Utkal-D coal block has been allocated to public sector national Aluminium Company.
Lambodar Sahoo, Raijharana village head, alleged, "The coal contractor and Nalco have not paid land compensation but have started mining operations on our land. We also did not get any job though the contractor has started coal production from Utkal-D block."
He said the company destroyed their village and panchayat roads for its use without constructing alternative roads under its peripheral developmental work. "We are struggling without the compensation and lack of jobs. We will continue the agitation indefinitely till the demands are met," he said.
Nalco general manager Tapan Patnaik said, "All the land compensation amount has been deposited with the state government and as far as jobs are concerned, Nalco's Rehabilitation, Peripheral Development Advisory Committee (RPDAC) will take those decisions."
Nalco, in turn, has outsourced the work of coal extraction, infrastructure development and dispatch of coal to its captive power plant to a private coal company – Mytri Company. The coal mine is a captive coal mine and all its coal will go to Nalco power plant only.
Earlier, Nalco did not have any captive coal mine to feed its 1,200MW captive power plant at Angul. Since its inception, its main source of coal has been Mahanadi Coalfield Limited. While sometimes it imports coal to meet the requirement, it still faces acute coal shortage due to short supply from MCL mines.