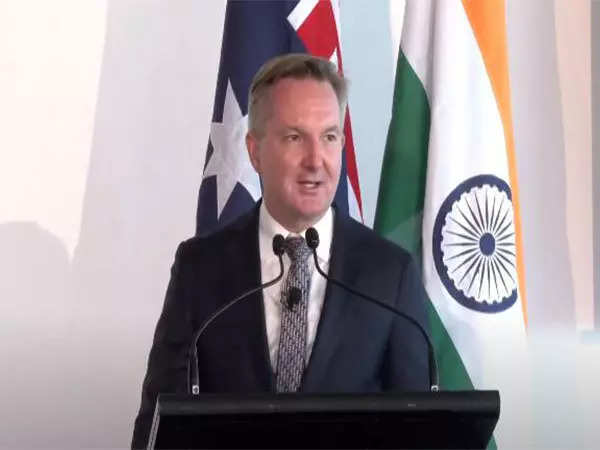 Sydney: Minister for Industry, Energy and Emissions Reduction of Australia, Chris Bowen on Saturday said that there is no stronger supporter of India's G20 chairmanship than Australia and that the country will support India in every possible way.
"There is no stronger supporter of G20 chairmanship by India than Australia. We will support you in every way possible," Bowen said at the Raisina @ Sydney/Keynote speech and conversation in Australia.
Bowen during the joint keynote with Jaishankar said, "This is an excellent year for India to chair the G20 and from my point of view, chair also the Clean Energy Ministerial, an important partnership of the world's key economies working together to accelerate the global energy transformation. A total of 1000 delegates usually attend the meeting, it'll be a very big meeting."
The Raisina @ Sydney/Keynote speech and conversation in Australia was organized jointly by the Australian Strategic Policy Institute (ASPI) and India's Observer Research Foundation (ORF).
The Raisina Dialogue is India's premier conference on geopolitics and geoeconomics committed to addressing the most challenging issues facing the global community, according to ORF.
The Australian Minister siad the theme of India's G20 presidency "Vasudhaiva Kutumbakam" or "One Earth. One Family. One Future", shows the importance India is going to place on interconnected sustainability. "I want to acknowledge the enormous effort that India is putting into the meeting of the first energy transition working group," he said.
"My officials just returned from India and they have reported to me how much effort India is putting into its role as the G20 host. I am looking forward to attending not only the clean energy ministerial and G20 energy minister's meeting in Goa, but also the G20 environment ministers meeting in Chennai a little while afterwards," the minister said.
Bowen further said that Australian Prime Minister Anthony Albanese looks forward to his bilateral visit to India in March. "I predict discussion on climate and energy will figure prominently in discussion between Prime Minister Modi and the Australian Prime Minister," he said.
While talking about Jaishankar, Bowen said, "Jaishankar you are not only the foreign minister of an important friend but you should be acknowledged as one of the most thoughtful and impactful thinkers in matters related to our complicated region."
"The fact that it is your second visit to Australia in just six months underlines the importance you place on the relationship which we deeply respect and deeply acknowledge," Bowen said.
He further said that there are some disagreements among statisticians about if India has just become the world's most populous nation or if it is about to become the world's most populous nation in the next month or so. "But either way, India is taking its place at the top of the global population mountain," he said.
Raisina@Sydney Conference, which began today with 'Business Breakfast', will involve ministerial and high-level government representations as well as participation from industry and civil society.
This mega event will also include panel and keynote addresses by leading regional think tanks on issues ranging from geopolitics to technology and economics. (ANI)