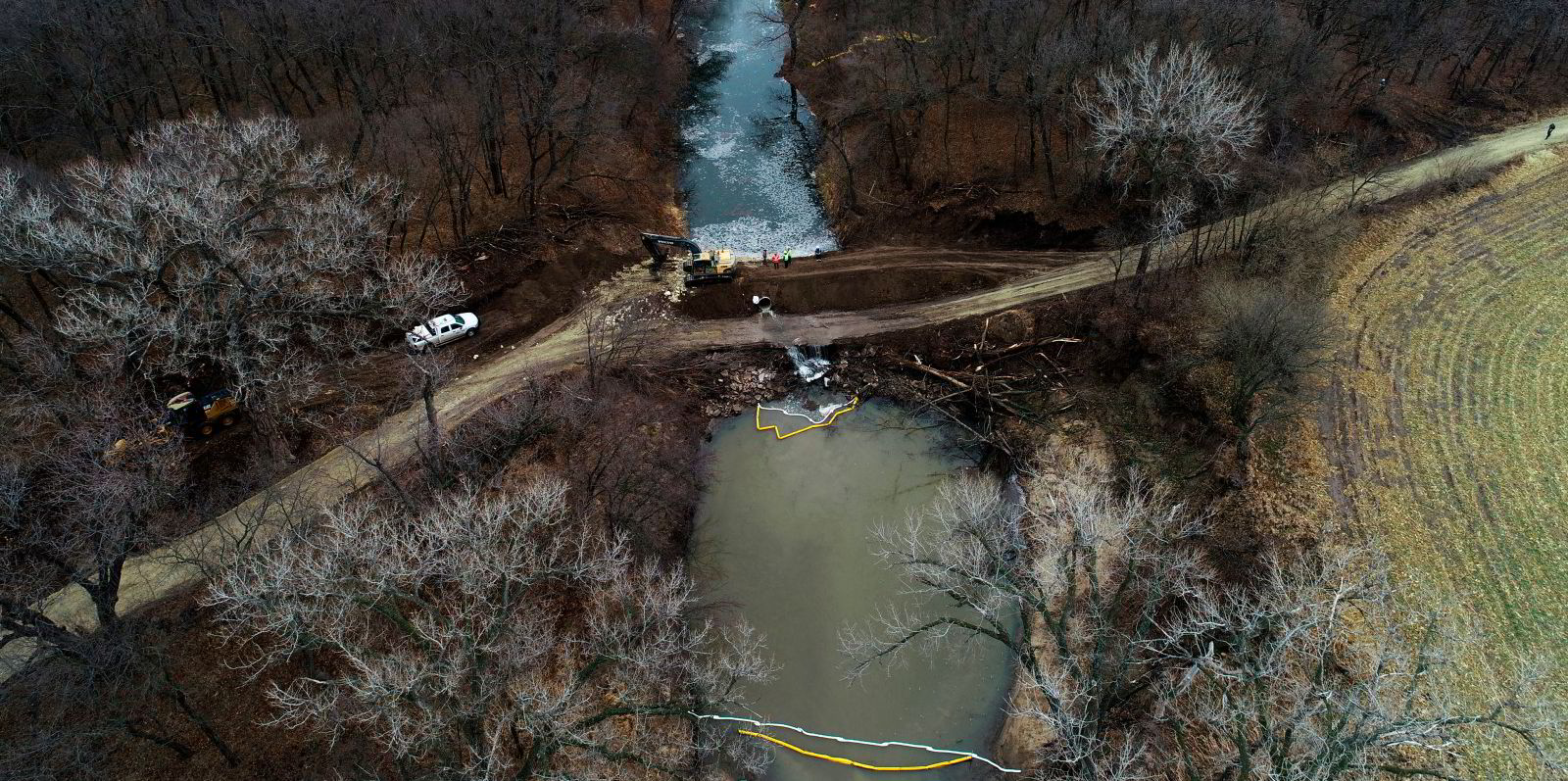 TC Energy has recovered 2598 barrels of oil and water after a Keystone Pipeline System rupture spilled about 14,000 barrels of oil into a creek in the US state of Kansas, the company said on Monday evening.
The pipeline delivers about 622,000 barrels per day of Canadian crude to the US, but remains shut down as the oil-recovery effort continues after the incident on Wednesday.
Oil has not breached the containment area, but TC estimates 14,000 barrels of oil were spilled, which is more than the total amount leaked by the other 22 Keystone accidents since 2010, according to a July 2021 US Government Accountability Office (GAO) report.
The Kansas creek does not connect to a drinking water source, the Canada-based company said.
"The affected segment has been isolated and we have contained downstream migration of the release," TC said.
On Friday, the US Environmental Protection Agency confirmed that no drinking water had been polluted and a response crew was cleaning up the affected areas, including Mill Creek.
Article continues below the advert
TC has more than 300 people on site, including third-party experts. Vacuum trucks and crews are working around the clock and booms are set up downstream from where the spill occurred.
A TC representative told Upstream that a force majeure notice informed customers the pipeline system might not be able to fully perform its transportation service for the rest of this month.
"Our response efforts will continue until we have fully remediated the site," TC said.
Government examined prior spills
Previous incidents along the Keystone Pipeline System spilled significant amounts of oil in South Dakota and North Dakota.
A US GAO report in July 2021 said two of the 22 accidents on the system from 2010 to 2020 had accounted for about 93% of the total 11,975 barrels of oil released from Keystone since 2010.
"Both accidents — one in northeastern South Dakota near Amherst, in November 2017, that spilled 6592 barrels and another in northeastern North Dakota, near Edinburg, in October 2019, that spilled 4515 barrels — occurred on the pipeline right of way," the report said.
"The two largest spills in Keystone's history, in 2017 and 2019, were among the six accidents that met [Pipeline & Hazardous Materials Safety Administration's] criteria for accidents 'impacting people or the environment'."
The GAO report was published soon after TC announced in June 2021 that it had terminated its Keystone XL expansion project after the project's US presidential permit had been revoked in January that year.
The Keystone XL pipeline was originally proposed in 2008, and would have carried a blend of upgraded synthetic crude and diluted bitumen from the Canadian oil sands, further blended with US-produced light crude from the Bakken formation.
It was intended to cross the US-Canada border in Montana and travel through South Dakota to the existing Keystone pipeline at Steele City, Nebraska, the GAO report said.