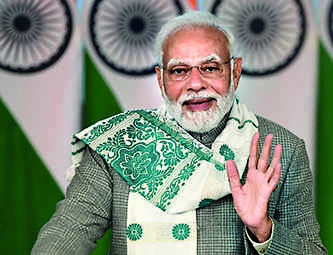 Prime Minister Narendra Modi will launch a solar cooking system and garments made of recycled plastic bottles, both developed by the Indian Oil Corporation's research lab, at the India Energy Week on February 6 in Bengaluru.
Modi will also launch the E20 fuel, or petrol blended with 20 per cent ethanol, at 84 retail outlets of oil marketing companies in 11 states and union territories, the petroleum and natural gas ministry said in a statement. Ethanol blending in the country increased to more than 10 per cent in 2022 from 1.53 per cent in 2014.
"Along with the launch of E20, Green Mobility Rally shall be part of the IEW-23 to create public awareness for the green fuels in the country such as E20, flex fuels, hydrogen fuels, CNG etc," the ministry said.
Indian Oil Corporation's research and development centre at Faridabad in Haryana has developed an "innovative and patented Indoor solar cooking system after extensive lab and field testing", as per the statement.
Modi will unveil the twin-cooktop model of the solar cooking system during India Energy Week and flag off the commercial roll-out of the product. "The indoor solar cooking system has been found to cook a variety of Indian foods involving operations like boiling, frying, baking, etc.," the ministry said.
If this cooking system reaches 30 million households by 2025-26, then in seven years, it would lead to savings in LPG cost by more than ₹1 lakh crore, forex savings of ₹50,000 crore, CO2 emissions reduction by 50 million tonnes and marketable carbon credits worth about ₹4,000 crore, according to the statement.
Indian Oil Corporation has adopted uniforms made from recycled polyester (rPET) and cotton for attendants at its petrol pumps and those who deliver cooking gas cylinders to homes. Each set of uniforms would require the recycling of 28 used PET bottles, as per the statement.
The company is expanding this initiative to meet the requirement of uniforms for the customer attendants of other oil marketing companies, non-combat uniforms for the army and dresses for Institutions. The company is targeting to support the recycling of 100 million PET bottles per year, according to the statement.