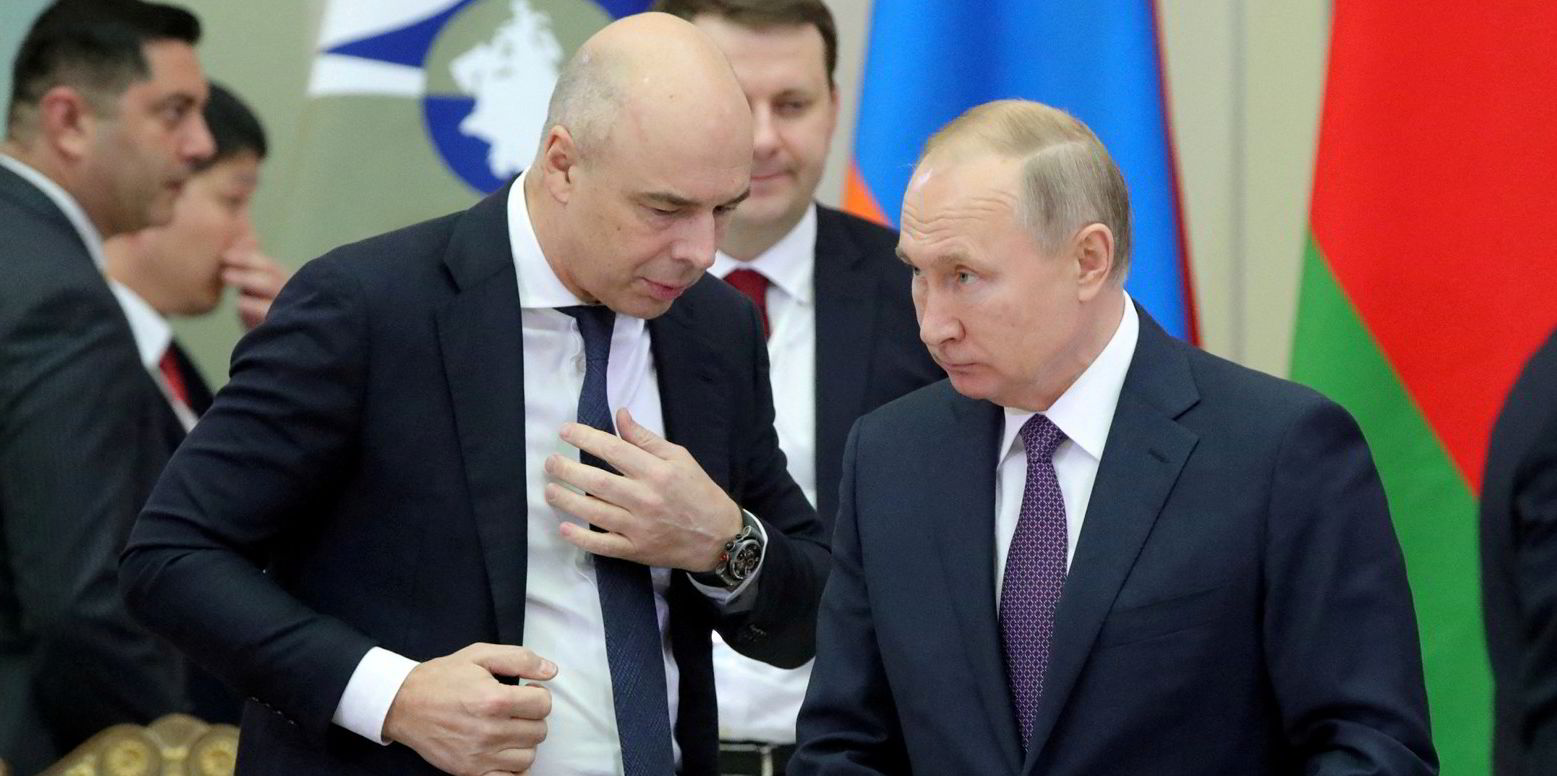 Russian Finance Minister Anton Siluanov has promised there will be no more tax hikes this year for domestic oil producers already coping with the prospect of a big increase in levies from 1 April and struggling to cope with the impacts of Western sanctions, including a G7-backed Russian oil price cap.
Speaking in an interview with Russian state news channel Rossiya24 on Friday, Siluanov said that the oil and gas sector will be "excluded" from a government plan to introduce another one-time levy on big businesses.
The levy will depend whether a business had enjoyed above-average profits in the last three years, the minister said. In total, the proposed windfall tax is forecast to bring additional revenues of 300 billion rubles ($4 billion) for the Russian budget before end of this year.
The levy has been urgently proposed after the ministry admitted a huge gap of about 1.8 trillion rubles ($23.7 billion) between government spending and revenues in January.
Tax payments from oil producers fell by almost 50% against January 2022, while spending on what is thought to be new military orders rose sharply following ussia's invasion of Ukraine in February last year.
Siluanov said private businesses indicated that they are ready to back the government in coping with the challenging conditions faced since the introduction of international sanctions against the country and its corporations in response to the invasion in Ukraine.
Article continues below the advert
He added that the one-off tax may be a temporary alternative to a proposal to increase the rate of Russian tax levied on corporate income.
Last week, the lower chamber of the Russian parliament, the Duma, approved a draft law that removes a correlation between the two largest direct taxes on oil — production tax and export tax — and the market price of Russia's Urals blend of crude, delivered globally.
Urals has been traded at discounts between $30 and $40 per barrel against the North Sea oil benchmark, Brent, adjusting down for higher transportation and insurance costs of shipping Urals to India, China and other countries during the Russian war in Ukraine.
That in turn has led to the sizeable drop in the size of these two taxes and subsequently budget revenues, irritating the Russian government.
A draft law when it moves for the approval by the upper chamber of the parliament and then signed by Russian President Vladimir Putin, will introduce phased increases for both taxes between 1 April and 31 July.
Deputy Finance Minister Alexei Sazanov said approved amendments to how these two taxes are calculated should generate additional revenues of 575 billion rubles for the government in this period, according to Russian state news agency Tass.
However, Sazanov has also hinted that authorities may ease back from an earlier prohibition against Russian oil producersfrom avoid selling their oil in line with the price cap mechanism.
"Companies are free to sell their oil at any price which they consider necessary. Producers will determine how they market their oil based on their commercial policies", Sazanov said.
Uneven distribution
Increases in oil production and oil export taxes may not be distributed evenly among Russia's major oil producers.
Last week, the Duma also rubberstamped an oil production tax concession for Gazprom Neft, a gas producing company owned by state-controlled Gazprom, offering total savings of as much a 80 billion rubles between 1 April this year and 31 March 2029.
The measure is supposed to facilitate the company's investments and the commercialisation of reserves at oil and gas fields on the Yamal Peninsula.
Look east
Close to one third of Russian oil production is currently being shipped from Siberia to the Russian marine port of Kozmino and China via the East Siberia–Pacific Ocean pipeline (ESPO).
The price of ESPO blend Russian crude delivered via this pipeline is thought to have been subject to more moderate discounts against the Brent benchmark than those conceded on Urals blend — the country's main crude blend for exports.
However, access to the ESPO pipeline has not an option for all producers, with most players in the Russian oil industry having to ship their output via Russian ports in the south and northeast, marketing it as Urals.