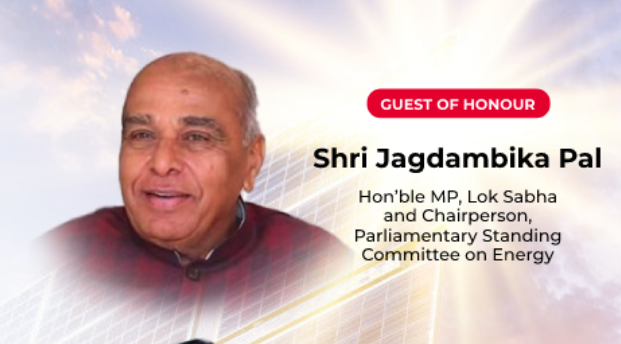 New Delhi: Prime Minister Narendra Modi has set a clear roadmap for the growth of the renewable energy sector in the country and Ultra Mega Solar Parks of 40 Gigawatt generation capacity will be set up by March 2024, Lok Sabha MP Jagdambika Pal has said.
He was speaking as "Guest of Honour" at the ETEnergyworld Solar Power Congress. The government has approved 57 solar parks with an aggregate capacity of around 39,285 MW under the scheme for "Development of Solar Parks and Ultra Mega Solar Power Projects" in 13 states.
The senior BJP leader, who is also the Chairperson of the Parliamentary Standing Committee on Energy, also said the panel is taking views of all the stakeholders to address the issues associated with the Electricity Amendment Bill.
Other key speakers at the inaugural session of the event, that concluded here on 17 March, included Nina Fenton, Head of Regional Representation, South Asia, European Investment Bank (EIB); Vibha Dhawan, Director General of The Energy and Resources Institute (TERI); Suman Sharma, Managing Director of Solar Energy Corporation (SECI) and Shashank Sharma, Founder and CEO, SunSure Energy.
"We are keen to work with the Indian private sector for undertaking corporate finance and want India to play more important role in global supply chain," Fenton said. EIB is committed to finance atleast $1 billion for Green Hydrogen Mission and Fenton said the country has played a key role globally for solar power generation and in coming years.
In her Special address at the event, SECI MD Sharma said the agency has been able to establish itself as the biggest renewable energy trader in the country and will soon launch more battery storage and green hydrogen application tenders.
Speaking at the session, Dhawan said it is important for India to become a hub for solar energy manufacturing. "Rural India can only grow if there is abundant energy. Renewable energy-powered cold chambers are needed in rural areas for storing perishable items," she said.
Delvering the Partner Address for the event, SunSure CEO Shashank Sharma said ensuring proper energy access to people, building digital infrastructure, and boosting financial inclusion are going to play a key role in the country's development.
The one-day physical event, the largest such initiative on the solar industry from the house of The Economic Times, was held this year at The Hyatt Regency last Friday.
The event was organised by ET in partnership with Sunsure, Climate Trends, Hero Future Energies, Jinko Solar, Vibrant Energy, Longi, Sterling and Wilson, O2 Power, Jakson Green, Radiance Renewables, Trina Solar, Gautam Solar, and NSEFI.