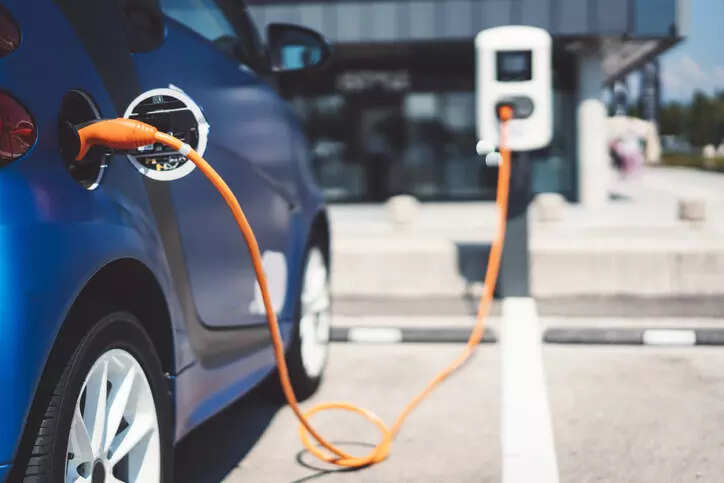 By Himani Jain & Aravind Harikumar

India is boosting its Electric Vehicle (EV) infrastructure at every level, from policy to investment. Five per cent of all vehicles registered in India in 2022 were EVs. But India's energy transition requires our public transport and commercial fleet to be electrified at pace too. The launch of a plethora of EVs, including buses and three-wheelers, during the 2023 Auto Expo in New Delhi shows the Indian automobile industry's commitment to decarbonising transport.
Our research finds that electrifying commercial vehicle segments like autorickshaws, taxis, two-wheelers used for deliveries and buses is beneficial for the economy. EVs are cost-effective, smoke-free, and reduce air pollution significantly from commercial passenger segments. A Council on Energy, Environment and Water (CEEW) analysis shows that 30 per cent EV penetration by 2030 will create 1.2 lakh direct jobs, generate Rs 1.5 trillion in value-add from EV manufacturing, and save 16 million tonnes of green house gas (GHG) emissions. The GHG savings can be four times more when EVs are supplemented with enhanced public transport. As several motor companies plan their EV launches, India can keep a steady focus on shifting personal vehicle trips to public transport and greening its commercial fleet.
Here are five key interventions for decarbonising public transport to put us well and firmly on our way to net zero by 2070.
First, local policy action for three-wheelers is critical. A CEEW analysis shows that electric three-wheelers such as autorickshaws are 13-46 per cent cheaper than CNG/petrol/diesel ones to own and operate, and drivers can increase their daily savings by 30 per cent. Despite this, only 4.6 per cent of the three-wheelers registered in 2022 were electric. This is due to gaps in awareness, visibility and financing for the risk-averse owners. Local-level policies like the RAAHI (Rejuvenation of Auto-Rickshaw in Amritsar through Holistic Intervention) scheme in Amritsar can derisk financiers and drivers while increasing awareness. Additionally, the new e-auto models, such as those by Atul Auto Limited at the Auto Expo 2023, reinforce the trust for EVs in regional three-wheeler markets where their own diesel vehicles have historically dominated.
Second, state-level aggregator mandates are a must for two-wheelers and taxis. Two-wheeler delivery riders can improve daily incomes by adopting EVs. Most of them use their personal vehicles. However, these fleets are primarily managed by aggregators such as Swiggy and Zomato, with little opportunity for the government to intervene. The Delhi government's aggregator policy is a classic example where aggregators have been mandated to electrify their fleet. Similarly, Uber and Ola also manage a major portion of the four-wheeler taxi fleet. Aggregators can play a huge role in addressing electrification challenges and state governments can notify EV policies aimed at them.
Third, policy priority is critical for small buses. The 2023 Auto Expo saw the launch of over 20 battery-operated bus models. However, three micro-bus models by Ashok Leyland, Tata, and Hexall, seating 10-14 people, were particularly interesting. These are suitable for feeder services, sub-urban routes and to serve small and medium cities where almost half the households do not own any personal motorised vehicles. They provide opportunities to plan and operate cost-effective public transportation services in these towns. We recommend a bus programme to incentivise private bus operators and other shared public transport providers to enhance small bus fleets.
Fourth, derisk e-bus deployment by private operators. Almost 65 per cent of the total stage carriage buses (2.9 lakh) are deployed by private operators outside cities. For the first time, a long-route e-bus model has been launched at the Auto Expo by the JBM Group, which covers a range of 1,000 km with two short opportunity charges of 45 minutes. Thus, making it possible to cover long routes. Although e-bus operations have low-cost, the high upfront costs is a concern. Alternative leasing models for e-buses, or longer tenure and low interest rates will sweeten the deal for existing small-time private bus operators.
Lastly, the government must establish sustainable public financing to enable and accelerate transport decarbonisation. For India to be on the trajectory to decarbonise, there is a strong need for sustainable financing of EV incentives and public transport budgets. However, about 13-15 per cent of central and state revenues come from taxes on petroleum products. Delhi government may lose up to 10.2 per cent of its fuel tax revenue due to EV penetration by 2030. Fuel tax based revenue is not sustainable. CEEW analysis shows Distance-based taxation is a sustainable source of revenue, unaffected by electrification. It can simultaneously be used to discourage personal vehicles and encourage EV adoption.
Our analysis shows that the best case for energy security, reducing carbon emissions and air pollution is when the EV transition is combined with enhanced public transport. All of us can switch to electric cars and still be stuck on the road due to congestion! So, it is imperative to simultaneously consider both space and energy as resources while decarbonising public transport and commercial fleets.
[This piece was written exclusively for ETEnergyworld by Himani Jain, Senior Programme Lead and Aravind Harikumar, Research Analyst, at the Council on Energy, Environment and Water (CEEW)]