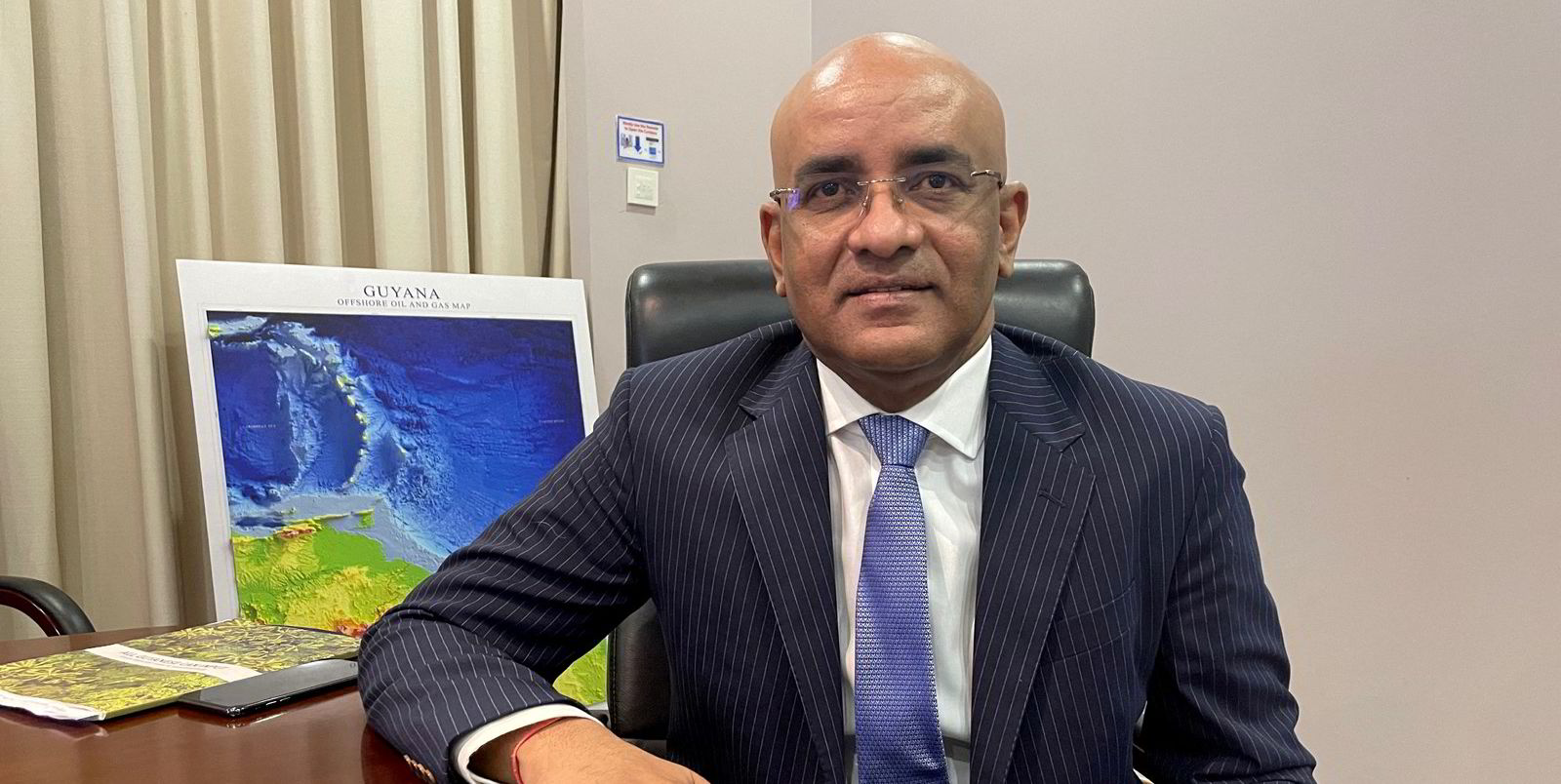 ExxonMobil must shortly decide on which areas of its incredibly prolific Stabroek block offshore Guyana it will need to hand back to the government, which intends to re-licence this acreage.
Guyana's Vice President Bharrat Jagdeo said the US supermajor is legally required to relinquish 20% of the block on which it has so far found 11 billion barrels of oil equivalent of resources, absolutely dominating the country's upstream domain.
Speaking to Reuters, the vice president said "we need more competition", pointing out Guyana is pursuing a multi-pronged strategy to lessen the grip on the country's oil resources held by the Stabroek partners, ExxonMobil and CNOOC International Ltd, and spur new oil production.
The US-China group produces 380,000 barrels per day of oil and gas from two floating production, storage and offloading vessels, and expects to increase output to 1.2 million bpd by 2027.
The least-developed country in South America expects to collect $1.63 billion in oil royalties and fees this year.
ExxonMobil has six drillships active on the block as at strives to discover the block's sweetest spots ahead of relinquishment.
Article continues below the advert
A year ago, Jagdeo said Guyana wanted state-controlled oil companies to explore for and develop new fields.
He explained ExxonMobil must relinquish a minimum of 20% of the contract area not retained under a exploration or production licence. "Exxon cannot keep it, that would be illegal."
ExxonMobil said the Stabroek partners are in compliance with Guyana's Petroleum Agreement and Petroleum Act, including their acreage relinquishment requirements.
"We are in ongoing discussions with the government regarding those requirements, in respect to both timing and area," a company spokesperson told Reuters.
The government is prepared to offer this relinquished area and blocks which are not included in an ongoing licensing round to certain countries "on a bilateral level".
This out-of-round acreage includes two nearshore blocks relinquished by Toronto-listed companies CGX Energy and Frontera Energy.
"If bilateral talks don't go well, next year we will offer another round," Jagdeo said, stressing that any "deal has to be favourable to Guyana".
The government has proposed offering out-of-round blocks to India, Qatar and the United Arab Emirates or national oil companies, although all these parties could also participate in Guyana's first competitive offshore licensing round where 14 blocks are available.
Guyana has been in direct talks with countries such as Qatar, India and the UAE over bilateral oil agreements, under different terms from those granted for private oil producers, he said.
"I believe that some of them will bid on the 14 areas and still explore bilateral discussions," Energy Minister Vickram Bharrat said.
Bharrat told Reuters that eight companies — including well-known oil companies — have paid to access data rooms ahead of the official launch of the offshore round in April, with ExxonMobil and QatarEnergy having publicly disclosed their interest.
Jagdeo said he hopes to engage Brazil's Petrobras and the Brazilian government, where his old political ally Luiz Inacio Lula da Silva started his third presidential term in January.
"We want Petrobras to be involved here," Jagdeo said. "We are waiting anxiously for Lula to settle in."
In December, meanwhile, Guyana released new fiscal terms that increased its share of oil proceeds from 14.5% to 27.5%, plus a corporate tax of 10% after profits.
Companies including ExxonMobil are now waiting for the government to release a new production sharing agreement model that will set terms for the latest blocks on offer, as well as projects that have yet to start being developed.
The PSA draft will go through public consultation until 8 March and is expected to be finalised before 14 April when the new licensing round will be launched.