Eni-led GreenIT and Denmark's Copenhagen Infrastructure Partners (CIP) have plans to develop three floating wind farms off Italy, taking the partnership's project pipeline off the southern European country to 3 GW and adding momentum to a burgeoning regional play.
The three wind farms planned for the Tyrrenian Sea, to the west of the city of Rome, accruing with the existing 1 GW that GreenIT-CIP has in development further out in the Mediterranean, point to a yearly production capacity of 7 TWh once all arrays are in operation, sometime between 2028 and 2031
"The partnership strengthens its commitment to the Italian offshore wind floating industry with [these] three new projects located off the coasts of Latium and Sardinia. The three wind farms make the consortium one of the largest developers in the sector in Italy," said the pair in a statement.
One of GreenIT-CIP's deep-water floating wind projects is to be built off the coast of Civitavecchia, with a planned capacity of up to 540 megawatts; the two others, off the coast of Olbia, would have a combined 1.5 GW output.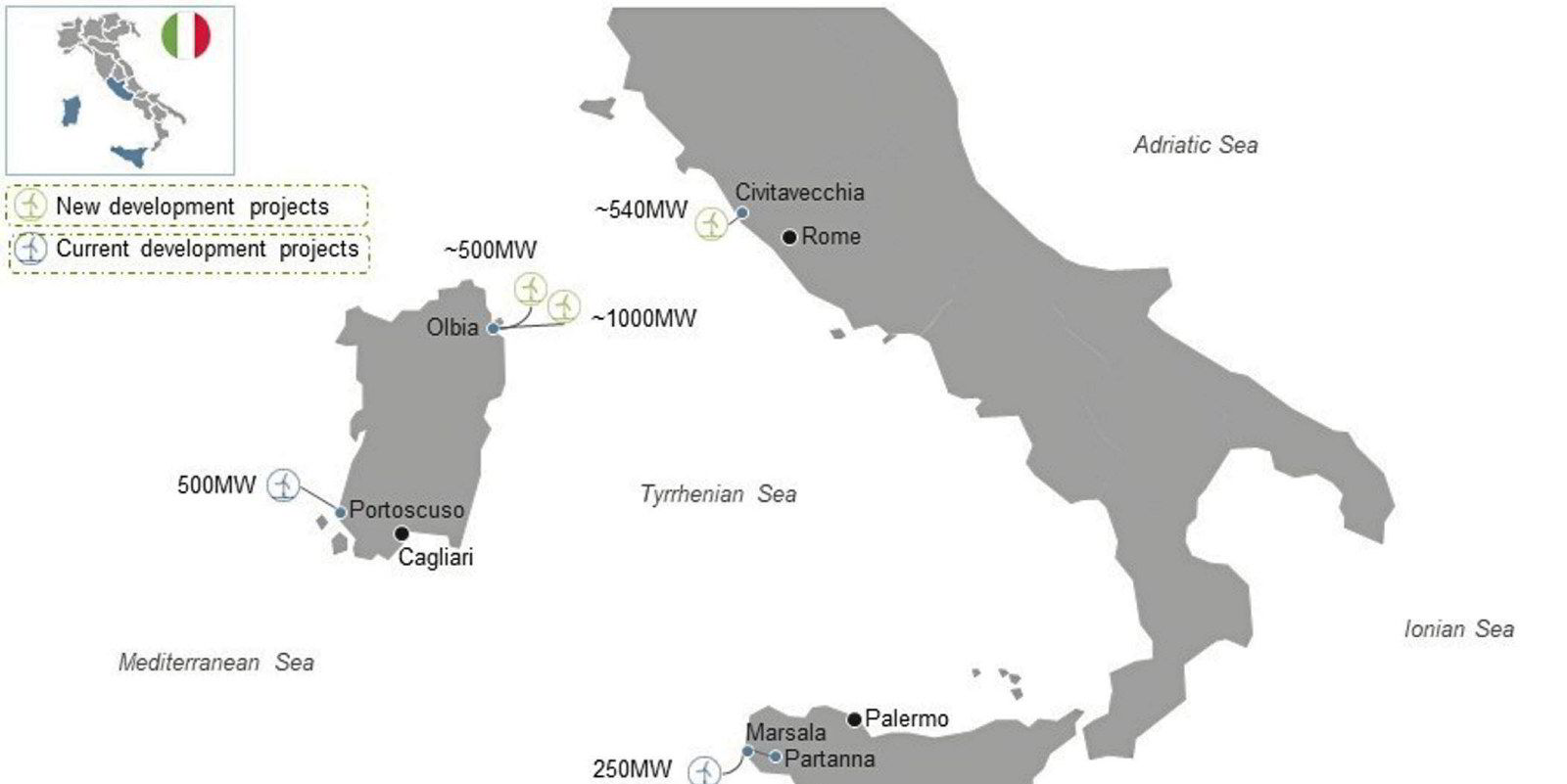 GreenIT — part-owned by Eni's Plenitude unit— and CIP have developed these latest wind farms via a joint working team with Copenhagen Offshore Partners, NiceTechnology and 7 Seas, the latter two Italy-based companies.
Floating future
Italy just has one operational offshore wind farm, Renexia's 30 MW Beleolico, brought online last year, but a host of developers have been building a pipeline of deepwater projects, with the country dubbed one of a 'chasing pack' of second generation floating wind markets with technical potential of near 4 TW.
Article continues below the advert
Along with the latest GreenIT-CIP projects, other developers with oars in the deepwater off Italy include Galileo-Hope, which plans to construct a 1.1 GW floating wind plant in the Adriatic Sea, AvenHexicon, which was just secured 7 GW of grid connection points from Italian transmission system operator Terna; and a tie-up between Falck and BlueFloat.
Italy is also in the frame to soon be home to the world's largest floating wind-powered hydrogen hub, following the signing of a deal between developer Aquaterra Energy and Seawind Ocean Technology to build a 3.2 GW project dubbed HyMed.
Consultancy DNV calculates floating projects currently make up over 15% of the total offshore wind deployment in the pipeline for switch-on by mid-century, equal to some 264 GW of the 1,750 GW slated to be installed.