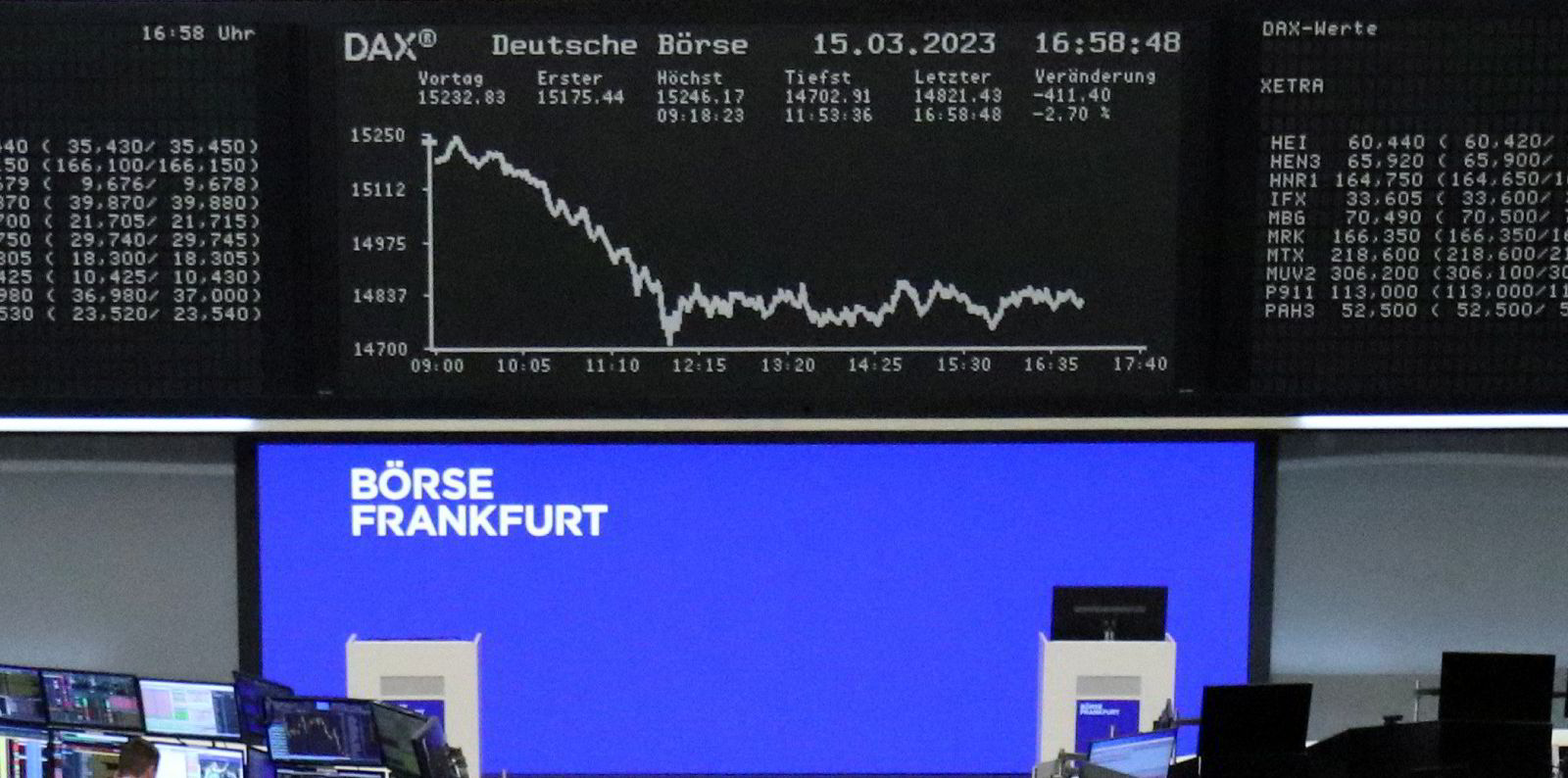 International commodities and equities markets have been hit by a major sell-offs on Wednesday, following suggestions of growing liquidity problems at a key European bank, Credit Suisse, with crude prices following the downward path.
Continuing a slide that started earlier in the week, front-month Brent futures were down by almost 7% to around $72.4 per barrel close to the end of the trading day in London, the lowest level in more than a year.
US West Texas Intermediate crude fell well below $70 per barrel for the first time since late 2021.
The deep dip in oil prices came despite strong supply and demand fundamentals that have been pointing to a new rally in crude prices, as fears about a potential new banking crisis gripped commodity investors and traders.
"The oil moves smack of market liquidation as opposed to anything directly related to current supply demand fundamentals," US Price Futures Group senior analyst Phil Flynn said in his latest Energy Report.
"This is evidenced by substantial drawdown in oil product inventories as reported by the American Petroleum Institute. Even the reported 1.155 million-barrel increase in crude oil supply was tempered by an estimated 946,000 barrel drop in supply at [the US key oil hub] at Cushing, Oklahoma oil supply," Flynn wrote.
Article continues below the advert
The International Energy Agency (IEA) has warned that a crude supply deficit is expected later in the year.
There are also indications that China's economic activity has picked up in the first two months of 2023, after the governmental ended its Covid-19 containment measures.
This has served to provide solid ground for expectations that the country's energy demand and oil and gas imports will pick up later this year.
Flynn also pointed to a report that China is on track to import 5.4 million tonnes of liquefied natural gas in March, according to data compiled by commodity analysts Kpler.
This would be up from February's 5 million tonnes and above the 4.8 million in March last year.
However, the IEA said oil is currently oversupplied due to Russian producers sending more crude exports than expected around the globe after they were banned from offloading them in Europe and the US.
"Supply and demand for oil do not matter when we have a run on the bank," Flynn wrote.
Banks in spotlight
Swiss-headquartered bank Credit Suisse fed the panic after its top investor, Saudi National Bank, was reported as refusing to increase its stake to boost liquidity.
Credit Suisse saw its share price collapse by more than a quarter before trading of its stock was halted.
Sharp falls in share prices were also experienced by other big banks on Wednesday, with London-listed Barclays plunging by more than 8%, and European peers such Societe Generale and BNP Paribas posting losses of around 10%.
Banking fears spread across markets last week after financial regulators seized two US financial institutions with strong exposure to tech start-ups and cryptocurrencies — Silicon Valley Bank and Signature Bank.
Fears spread to the rest of the sector and the wider economy, prompting investors to seek safe havens, with the US dollar growing stronger against euro and other major currencies, exerting additional pressure on oil prices.
Flynn described the sell off as "overdone" on oil. "We should have a significant rebound in the short term and see some extreme turbulence so make sure you keep your seat belt buckled," he wrote.